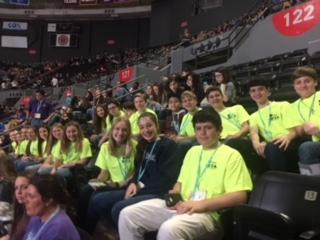 Beta Club
The purpose of Most Blessed Sacrament Jr. Beta Club is to promote academic excellence, service, leadership, and good citizenship while following the National Beta Club Motto, "Lead by Serving Others".
Members of the Most Blessed Sacrament Jr. Beta Club are invited students from grades 7-8. To be invited to join Beta, a student must earn A's and/or B's on the semester averages of every subject and maintain A's and B's in conduct. He/she must demonstrate school spirit and be an active participant in the school community.

Members of the Executive Council of this chapter shall be: President, Vice-President, Secretary, Treasurer, Chaplain, and Convention Head. These officers are chosen at the beginning of each school year in a ballot by the active membership of the club. Students in good academic standing may offer themselves as candidates at the September meeting, with the presentation speeches and balloting set some days later.

The Most Blessed Sacrament Jr. Beta Club meets on the first Tuesday of each month at 7:10 am. Meetings are open to all Beta members, those in excellent academic standing and those who are on academic probation. However, students whose conduct grades in any quarter have fallen below a B, must wait until the following year to participate.

Participation in Rally and Convention is available to seventh and eighth students in excellent academic standing who maintain the required grades both on the first semester and the third quarter report cards. These include A's and B's in all subjects. In addition, students must perform the required hours of service to the school and community. These service points are defined by the Beta Service Contract. Eligible students register for Convention in January.

In the eighth grade, students who fulfill all Beta Convention requirements, successfully earn all A's and/or B's in all semester subjects, and maintain all A's and/or B's in conduct will receive Beta Cords to be worn for graduation.